Well, it's been a snowy week in my neck of the woods. Between 8 and 10 inches of the snowy stuff fell late Sunday night. There may be locales that can take that kind of snow without blinking too hard, but southeast Tennessee is not one of them. We've wandered through a week with roads snowy, then icey. Schools, and most non-essential fuctions, were cancelled in most districts the whole week. Yours, truly, spent the bulk of it at the grocery store.
I was off Sunday night, so I got to see the situation fall. I spent the evening watching episodes of Battlestar: Galactica and watching my Twitter's feed and Facebook friends. I watched as friends south and west of here started seeing snow. Mississippi was first, then Alabama started mentioning it. Huntsville & Atlanta both noted, with Chattanooga & Nashville mentioning it soon after.
My brother-in-law mentioned that he though it'd be funny if we didn't get anything. I mentioned that it was already heading our way. Within minutes, he noted that it was snowing, and hard. Not long after, he mentioned he had 3 inches out in the yard.
I'd say it was about 1 in the ay em that snow started falling in Athens. Give or take. I'd wandered out to the truck to find a CD, and to see if it was snowing. It started snowing light flakes while I was out there.
Since I didn't have to be up in the morning, I went in, found my boots and took a small walk in the night to take a few pictures. Just a note: To know how hard the snow was coming, it took me ten, maybe fifteen minutes to get dressed, find my gloves and camera, and by the time I got out there, it had already snowed an inch, or so.
One last note: Indulge a snowtard. We don't get a lot of this stuff in this neck of the woods. I can't remember the last time we had a snow that lasted 5 days, like this one....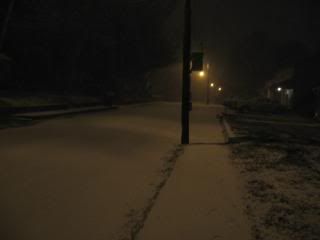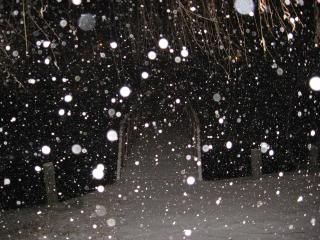 The flash reflected the falling show. In some places, there was enough light to take a decent picture....the snow adds a nice ghostly quality in some of them. This is the foot bridge to Veteran's Park.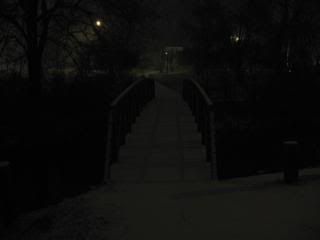 Same bridge, no flash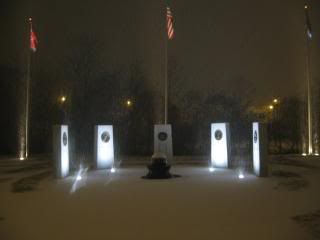 The Veteran's Memorial, at 1:15 or so in the snow.