The First Bat Race of Spring
The First Bat Race of Spring
Dude. I loves me some Minor League Baseball. The Chattanooga Lookouts opened the home portion of their schedule this weekend. Hit two games. They played the Cubs' Double A affiliate, the West Tennessee Diamond Jaxx, so seeing some of the Cubbies farmhands was a treat.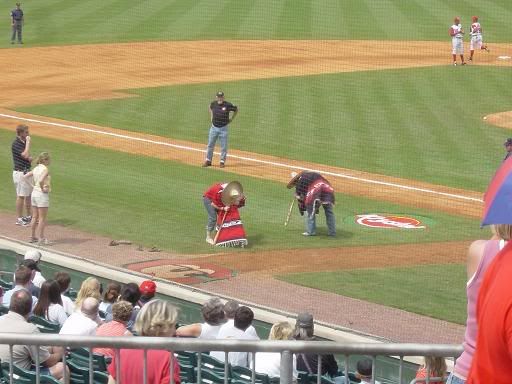 The first bat race of spring. Bat Race 2005: This year, we wear the sombrero.
Went Saturday with
Steven
. Went with the folks, the sister and her fiance Sunday.
West Tennessee won each of the contests. Maybe a couple of thoughts on individual performances later. I will say that Jae Kuk Ryu was bringing it Sunday, and for the first five innings, he kept the Lookouts guessing.
It is in the heat of battle that we learn where our priorities lie. I missed a foul ball on Sunday. A high pop up, and I lost it in the sun, myself. It hit five rows in front of us, bounced off the concrete in my direction. It brushed my fingertips. But I didn't get it. I might have had it, except that I wasn't willing to push my mother down for it.
At least, not at a minor league game.
Now we know. And knowing is half the battle.