Sunday Morning
Sunday Morning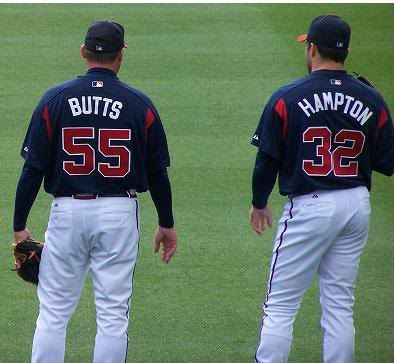 Howdy, and Good Morning.
Doesn't Butts and Hampton sound like an old vaudeville comedy act? Or perhaps a duo that tours the supper clubs?
Spent part of the weekend down in Atlanta.
Took in a Braves game.
Spent the better part of the game laughing myself sick a Butts's name.
It was a cool night, down in Atlanta. A cold front moved through much of the south over the course of the weekend. Game time temperature was in the low fifties, and it dipped into the high thirties as the game went on. A cold wind blew straight at our right field seats most of the night. Most of us came prepared. One frat boy sitting below us showed up in a golf shirt and shorts, and he had moved into an upright fetal position by the fifth inning.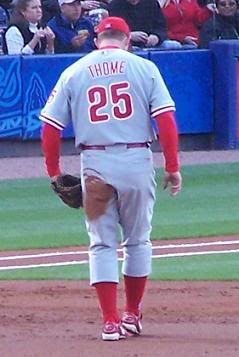 It felt like a late fall game. With everybody bundled up, like that.
With the final score of 11-1, it wasn't much of a game. I don't think the Phillies actually intended to
play.
I think Jim Thome misunderstood when they said "Let's get some runs!"
Batting Practice highlight: watching some big giant Philadelphia player (the program would suggest that at 6'6", Ryan Madson was probably the guy) nearly get decapitated by a fly ball off the bat of Bobby Abreu during the Phillies batting practice. Madson had his back to the plate, as he was too busy talking to a couple of girls in the stands in right field.
Also, the picture didn't come out well, but Chip Caray was in the fan concourse before the game, answering fan questions. I got there late, but I did hear him saying how much he liked working with his Dad, Skip, and he recommended a couple of places in Chicago for ribs. I was too distracted by his giant eyebrows to think of a cogent question.
A brief note on Raul Mondesi: I don't know what the over/under is on his flakeout. Judging by just how much attention he was paying to the taunting one really drunk guy in right was giving him, for no reason that I could ascertain, I think Raul might go batshit before the All-Star break....