Baseball
Baseball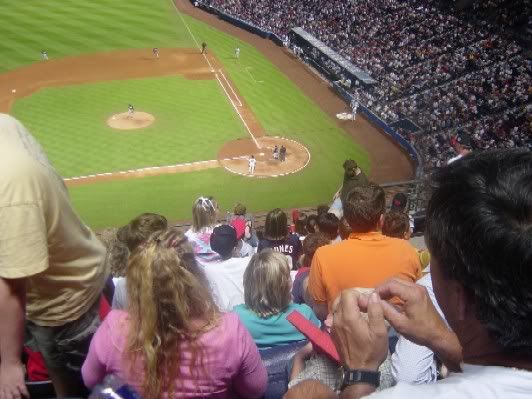 It's been a lean season for me when it's come to the Major League Baseball. I like to catch four or five games a year, if I can. It may not sound like much, but when you live 3 hours away from the nearest venue, and you find yourself working or moving or doing any number of the other things that seem to clutter up a life, four or five games a year sometimes gets to be a difficult proposition.
I'd hit one other game this year. Back in April. It seemed like last week. It's one of those things where you look at the calendar and you curse because you realize it's September 25, and year's 3/4 gone, and more than that, there's a week or so left in the baseball season. You ask yourself where the time's gone, shrug it off and you keep on digging through a cluttered existence.
It was a good game to go see, if you're only going to catch one this year. We (the group of me, my buddy Steven, and my friends Julie and Jason) got to catch a helluva pitchers' duel. Carl Pavano went for the Marlins, and Mike Hampton went for the Braves on the night after they'd clinched their thirteenth divisional title.
We all met down at
Turner Field
a couple of hours before game time. We went to get tickets. We weren't able to sit in the outfield, but they didn't have any tickets left. I was a little appalled. Atlanta? Doesn't have tickets in a section for a game? This is the city where my sister was able to walkup and get field level tickets minutes before a playoff game...and they don't have seats in the outfield in a game that doesn't matter?
People were banking that the Braves would clinch last night, instead of Friday. Those folks bought up all the Saturday tickets....
We got seats in the upper deck, and then took a short walk around the stadium, before they opened the gates.
We got to see
Braves player parking
. Lots of SUV's, lots of big giant pickup trucks. A couple of hummers. And one old model Chevy pickup with a push lawnmower in the back. I don't know why, but I like to think that truck, the one with the push mower in the back, belongs to Braves pitching coach Leo Mazzone. For no other reason than that he seems like the type of guy who would stop on the side of the road to pick up a hunk of metal to get the recycling cash despite the fact that he makes a six-figure salary.
We wandered around the concourse when the gates opened. Steven bought himself a larger, better fitting baseball cap. He moved up to the size 7 3/4. He's got a melon, no doubt. But me and my size 8 dome have no room to speak on the matter.
It was still a while before they'd free people to find their seats, but we were hungry and wanted to be out of the crowd for a moment, so we braved the high prices of the Chophouse, and went to find food there. It was there that we got to wtiness Jason having a curious conversation with the waitress when he ordered a burger, and she quietly warned him away from the choice, saying only that he really didn't want that. He got the cheesesteak instead. We wondered if perhaps Turner Field had exhausted their season's supply of hamburger...you could order a hamburger, but it was partially cut with chopped rat and infield dirt....
We ate. We laughed. We had to wait forever for Steven's food to get there.
We paid.
Through the nose, even
. We knew we would...you can't buy anything at a Major League game without taking out a loan.
We took a few pictures. We looked into the Braves bullpen, which was empty, save for
somebody's ballsack...
We wandered up to our seats. We were high up. Good seats for seeing the field, and for seeing the Atlanta skyline. Sadly, it didn't lend itself to finer photography. Considering that
I'm
the one taking the pictures, I had two strikes against me when it comes to taking the pictures. But still, a couple more pictures:
These specks are a few Marlins warming up.
One of them is Juan Pierre.
The guy who threw out the ceremonial first pitch was
Dale Boone
, the winner of the Hebrew National Hot Dog Eating Contest.
And, well, it's one of those things that you know's going to happen, but you still never get used to: Finding out just what an
8 dollar beer
looks like.
The game itself was quick paced. That cup of Sam Adams cost me not only 8 dollars, but also the entire third inning. I left at the end of the second inning, and got back at the beginning of the fourth. And the beer line wasn't even all that long.
Carl Pavano and Mike Hampton were mowing opposing hitters down left and right. A lot of the Braves were sitting for the evening....Andruw Jones, J.D. Drew, Rafael Furcal. I don't think the Marlins had all of their hearts in the game, having watched the Braves clinch the east the previous evening, and being all but mathmatically eliminated from the wild card race with that same loss.
The game began at 7:05, and finished shortly after 9. Quick game. One of the quicker I've been to in recent memory.
At two hours, the game took only slightly longer than it took for Steven and me to finish talking outside the stadium with Julie and Jason, hashing out the game and figuring out just when we'd all be able to get together again, and then fighting detours and traffic to get to the interstate. The game finished just past nine, and it wasn't until right at 10:40 or so that we made it to the interstate. (My normal route of retreat was blocked off, and I was made to wander in weird directions....)
It sounds like I complain, but I don't. It was a good crowd that made it out to the Saturday game. Atlanta fans bug me, sometimes, with the apathy they display toward a team that succeeds so often. But the ones who do show up to the stadium have a good time and are fairly knowledgeable of the game. So, I don't mind having to sit in traffic too much.
All in all, we all got to see a good game. We had a good time.
We'll have to do that all again.